Options
Menu
Color options
Sails and sail handling
Exterior options
Interior options
Covers
Miscellaneous equipment
Color Options
Dark Blue Hull – Dark blue gelcoat with molded in white stripes.

Sails and sail handling
CDI Furling System – Roller furling consists of a tough plastic extrusion that slips over the headstay, and a hardware system for rotating the furling extrusion. The leading edge of either the jib or genoa slides into a groove on the rear side of the extrusion. By pulling on a line that leads back to the cockpit, the extrusion can be rotated, rolling up the jib or genoa like a window shade is rolled up on its roller.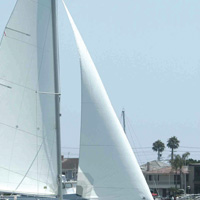 Jib Sail – Forward sail that attaches to the forward wire that holds up the mast (headstay), and sheets to adjustable blocks mounted on a track on the cabin top coaming.
Genoa Sail— Large forward sail that replaces the smaller jib and provides a very large increase in sail area. Like the jib, it attaches to the forward wire that holds up the mast (headstay), and sheets to adjustable blocks mounted on a track on the cockpit coaming.
Jib Equipment – Sheets and cars for the jib sail.
Genoa Equipment – Sheets and cars for the genoa sail.
Cruising Spinnaker with Sheets — Asymmetrical spinnaker flown and controlled like a jib or genoa. Unlike conventional racing spinnakers, it does not require a spinnaker pole or extra hardware.
Exterior options
Cockpit Seat Cushions – Vinyl exterior cushions for lounging in the cockpit.
Stern Rails with Modified Life Lines – Stainless rails at the transom with a lifeline gate aft and on each side.
Boarding and Stern Ladder – Stainless steel ladder, for boarding the boat from the water or while it is on the trailer.
Interior options
Fitted Marine Head – Fixed marine toilet permanently installed for direct overboard discharge of waste.
Self-Contained Marine Head – Portable toilet that is easy to carry, simple to operate and maintain. Uses self-contained water supply. The waste tank is taken off the boat to be emptied.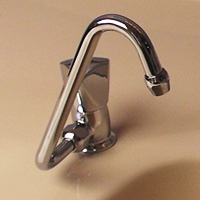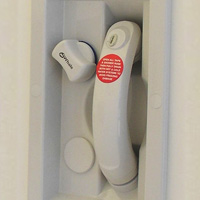 Pressure Water System – Pressure water pump with shower at transom, additional faucet at galley, and extra fresh water tank.
Table Cushion – This is a fill in cushion to create an additional single berth.
Covers
Steering wheel and pedestal cover – Acrilan Sunbrella protects steering wheel and pedestal when not in use.
Sunshade – Acrilan Sunbrella sunshade on stainless steel frame over the cockpit area. Folds back into zippered cover when not in use.
Winch Covers – Acrilan Sunbrella covers for jib winches.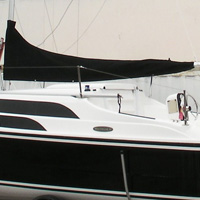 Mainsail Cover – Acrilan Sunbrella cover for mainsail folded on boom.
Miscellaneous equipment
Mast Raising System -System for raising and lowering the mast making it a quick one-person task.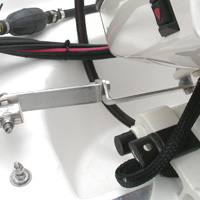 Outboard Linkage – Links the engine and rudder so the steering wheel will move both the outboard engine and the rudder at the same time. (may not fit all engines).
Bilge Pump – Manual bilge pump and thru hull for removal of bilge water.
Compass with Light -Plastimo Magnetic Compass features a highly legible 31/2″ apparent-diameter combination card, which can be read from many angles. The steady, light-alloy card is red, marked in 5° increments and can be read from above (like a flat card) or straight-on (like a direct-reading card). Includes 12 volt night lighting.
Vang – Harken 6:1 block and tackle between the mast and boom which keeps the boom from rising when the mainsheet is released, to help control mainsail shape.
Spare Tire and Rim – Spare tire and rim for either the standard or deluxe surge braked trailer.
Deluxe Trailer Upgrade – Includes the brake actuator, disc brakes, galvanized torsion bar axle, aluminum brake caliper housings, and zinc plated brake discs. This option also includes a boarding ladder mounted on the trailer near the trailer hitch.
U.S. 12 Gallon Fuel Tank – Increased fuel storage for additional range.
EC Approval Package – Boats imported into the European Community require this package of modifications and CE Certificate for Category C to comply with the Recreational Craft Directive.